Fuck Internet Pre-Sales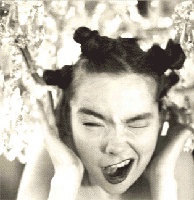 I hate internet pre-sales. The Björk pre-sale sucked so much, I can't believe it. It started at 10am and was busy as hell. I tried, and tried, and tried, and tried but I couldn't get through until about 10:09. When I applied for orchestra tickets ($100 a pop) it said that there were no more available. I just said to myself, OK, I'll take whatever is the best selection left. So I tried again, and it turned out
everything
was sold out. I was so mad. I want a fucking orchestra seat! So I went on eBay about 5 minutes ago and saw one orchestra ticket that was dead center and second row starting for a whopping $500. One fucking ticket for $500! Jesus! I hate unconsiderate bastards that just want to make a buck instead of helping out real fans. Why can't more people be like Olin from Belguim or Heike from Germany? I love them :) I will try to get tickets for the Björk concert tomorrow, but I doubt there will be any decent tickets left. Damn it all to hell.
Anyway, good news is I received
Rings Around the World
by the Super Furry Animals in the post yesterday. What a spectacular album. It's royally fucked up that the album doesn't have any plans for an
Amerikkkan
release date. Oh well, more precious secrets for me, I guess.